Important Announcement about Spectrum (Summer 2022):
For almost two decades, the Spectrum Transgender Group of Western New York held monthly meetings in Buffalo. With the COVID-19 pandemic, in-person meetings have been suspended indefinitely.
We will no longer be able to offer guidance to individuals, but will try our best to refer any inquiries to reputable local resources whenever possible. We intend to maintain a limited online presence with periodic updates on this site and on our Facebook page for archival purposes. Our members continue to be active within the WNY LGBTQIA community in other local organizations.
Mission Statement:
To provide a support structure for transgender individuals and for their families, friends and allies.
To assist the questioning individual in their search for awareness and comprehension of their gender identity and expression.
To serve as an educational resource both in the TG community and in reaching out to the surrounding community, in order to increase awareness of transgender issues.
To work as advocates in gaining respect, dignity, and basic human rights for transgender people everywhere.
---
Spectrum Trans Group Origin
By Camille Hopkins, Co-Founder
From 1992 through 2002, the "Buffalo Belles" was the only transgender social and support group in the Buffalo metro area. The Belles were originally founded as a place for
crossdressers, as well as for their partners, in order to socialize and share their experiences.
But as time went on, some members transitioned to living full time as their true selves. It's
membership eventually consisted of crossdressers and transsexuals/transgender women.
I joined the Buffalo Belles in 1996. By 2000, I had become President of the Buffalo Belles.
Around that time, I knew a few trans men who were looking for a support group and had
asked if they could attend a Belles meeting since there was no support group specifically for trans men. I believed that all trans people should be welcomed at Buffalo Belles meetings and encouraged them to attend. As time went on, more trans men were attending Belles meetings and with some becoming members. However, I thought it was inappropriate for trans men to be considered a "Belle". I believed it was time for the Belles to expand their mission to welcome and include trans men. In early 2001, I began an effort to educate and persuade the Belles membership to change its name to a non-gender specific term to reflect the growing diversity of the group. After six months of discussions and debates, there was a vote to change the group's mission and title to a more inclusive organization. Unfortunately, the outcome of the vote had the majority of the membership deciding to keep everything the same including the name, "Buffalo Belles".
I was extremely disappointed in that outcome. Soon afterward, I stated that I could not be a
part of a trans group that was not inclusive and I resigned from the Belles. Others who felt the same left the group as well.
As time went on, many Belles members soon became dissatisfied with the direction of the
group, and along with those who had already left the Belles, asked me if I would consider
either returning or perhaps starting another trans support group that would be more
expansive. Initially I declined as I was involved with other organizations, such as GLYS,
PFLAG, Pride Buffalo, and the New York State Transgender Coalition. Eventually I decided that there was a real need for a new, dynamic and more inclusive trans support group in WNY. I believed that any new group would need to be located in the City of Buffalo where most trans people lived. In addition, public transportation, which was always a problem due to the Belles suburban location, would be more readily accessible if it were located in the City of Buffalo.
In late 2001, I asked my friend, Andy Miller if he would be a co-founder of the new group and representative of trans men. Since diversity would be a primary component of the new group. I also reached out to Ari Moore, a black trans woman, to be another co-founder. The fourth co-founder was Joy Shroeder, a progressive trans woman who was involved with education and outreach at her workplace and who had union organizing skills.
These individuals agreed to meet at my home in North Buffalo. Carol Speser, a longtime
activist and visionary in Buffalo'ss LGBT community, agreed to facilitate the meetings in order to establish a mission and organizational structure of the new group. It took six months of hard work to develop a new support and advocacy group that would meet the needs of WNY trans individuals.
On January 10, 2003, Spectrum held its first meeting at the Unitarian Universalist Church of Buffalo. Besides inviting all trans and non-binary individuals, it also welcomed families,
friends and allies of transgender people. In 2009, Spectrum Transgender Group was
recognized for its contributions to Western New York by Embrace WNY at its Annual Buffalo Brunch when it received their Community Service Award. Today it is one of the most visible and accomplished WNY trans support groups. I am proud of the organization and all who helped make it a reality.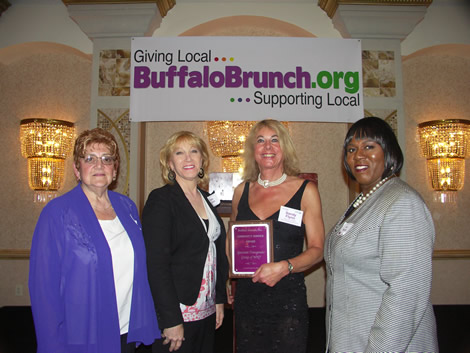 Spectrum received the 2009 EmbraceWNY Community Service Award at the 13th Annual Buffalo Brunch

Visit our pharmacy partners: